October 8, 2010 – The Year
My World Changed Forever


I checked my computer that morning like I always did... but something was different.
No sales had came in overnight.

Shit! Were my ads running? Were my websites up and running?
I'd heard rumors of the Google Slap but wasn't worried about it because I was doing everything above board... or at least I thought I was.
You know that small voice in your head… That voice telling me to expand out. Get more sources of traffic. But hey, what I was doing was working. Don't fix it if it ain't broke. Right?
WRONG!
Google had shut me down. We called it the "SLAP" back then
and it was a slap that almost took my life!


Looking back, I liken Google at that time to a dad who drinks a little too much… and the drinking caused some anger issues.
You never knew who was coming home at night…
The one who was loving and sweet or the one who would kick the dog when he walked in and blame it on you.
One night in Oct, Dad (Google) came home and SLAPPED me so hard it would later take me over a year to get off the ground from it.
...and he didn't stop there.
He then packed my clothes, kick me out of the house and told me to never come back. I wasn't wanted any longer.

He banned me from advertising on Google.
I didn't just say ok and leave it at that. This was my income... my only source of providing for my family of 5.
Hell, no. I fought!
Numerous email attempts of asking can I come back home- numerous phone calls to only get a recording… numerous attempts to open other accounts… I was even at the point if I'd known you at the time, I would've asked you to open up an account...
Nothing lasted longer than couple of months. Then SLAPPED AGAIN.
Here's one of my accounts at the time-
Look closely and you'll see the train come to a screeching halt.
From $101,041.01 in January to $2254.41 in October 2011.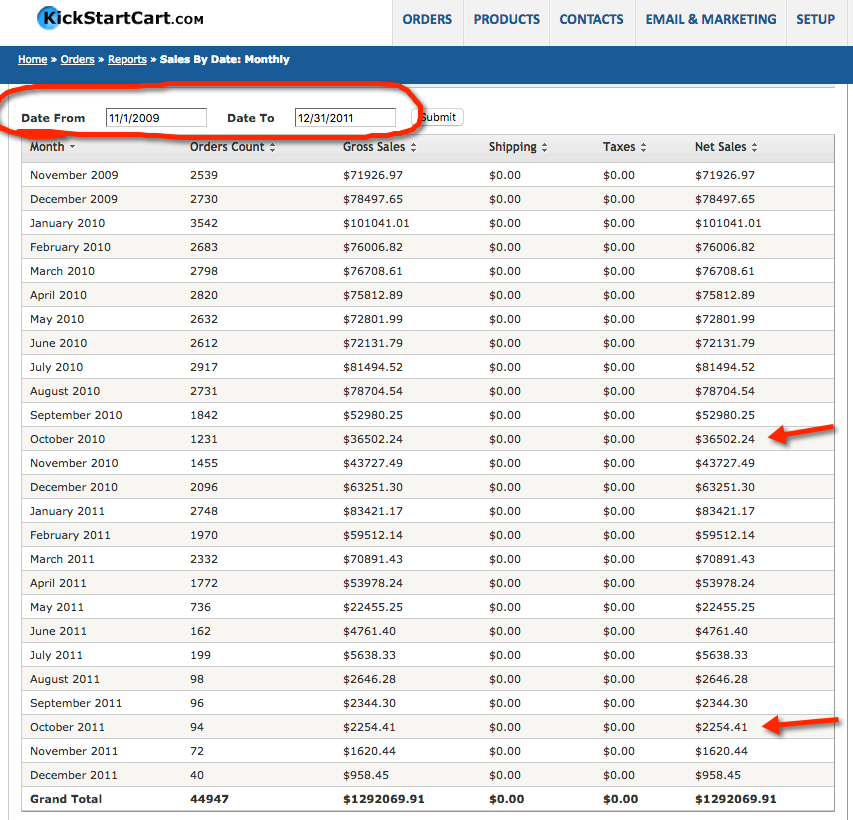 I couldn't get back on and because of that – within a year…
I LOST IT ALL!
Dream house... GONE!
New Corvette... GONE!
Owed IRS little over $174,426…
And then let's top it off with a separation… My wife and three kids moved out for a "temporary" break… which led to a divorce within a year.
I need to take you back... before the slap so you'll know where I fell from...
Three years straight – over million dollars a year online.


We'd just moved into our $750,000 home. (which was a lot of home in Athens, GA)
I'd flown to Chicago and bought my dream car – 2009 Corvette Convertible. (Every redneck's dream. Handed the guy a cashier's check and owed nothing. Matter of fact I bought a car tag for it: "I O No 1″)

(As a sidenote... I never put the tag on. I knew I owed a lot of people...)
Spent over $103,000 in our backyard building a custom pool or what I like to call my Oasis. (in cash)
Taking vacations every other month.
One of those vacations, we'd rented a house in a gated community in Destin, FL. When you climbed to the top floor it had this lookout room which overlooked the ocean.
As I was up there one evening watching the sunset, drinking my Hard Mike's Lemonade, I caught myself sighing… "Yeah, life was good."
And that's when Humpty Dumpty fell off the wall. I Lost It ALL - And Broke Into A Hundred Pieces
Rented a small house, moved in my few boxes and climbed in bed.
That queen size bed felt much larger now than it used to… and I pretty much stayed there for days… Only getting up long enough to piss, eat and go back to sleep. I was emotionally paralyzed.
I'm ashamed to tell you this next part (almost left it out… matter of fact, I've deleted it twice before leaving it)
...but I think it may help to tell you just how low I got…
and just maybe encourage someone one day that times can change… just show up. And don't give up.
I told myself,




"I was worth more dead."
That $2 million dollar life insurance policy seemed to be the answer to all my problems.
On more than one occasion, I found myself fumbling through the policy… reading the fine print, looking for a loophole to see if it would still pay if an "accident" occurred.
My ex-wife called me up one day and said something to the tune of, "You do know if something happened to you, our kids would be messed up for life. Don't do that to them."
That week, I surrendered my pistols to my ex-wife... I didn't trust myself.
Looking back to those dark days – the only thing that kept me alive was my kids and my faith.
Still here I was – 42 years old,




and broke. NOTHING!
I went from "owing no one"...
to "owning nothing" in a blink of an eye.
Very humbling to say the least.
Life Changed When I Got My Eyes Off Myself and Onto Others
One day I'm in Outback Steakhouse, sitting at the bar... watching a golf tournament.
'Just by chance', I'm beside a guy who was watching it too.
We small talked for a minute but as all conversations with guys go- the question is asked, "what do you do for a living?"
Instead of telling him the whole truth, I just mentioned I did something with online marketing.
His ears perked up.
He told me about his local painting business and how times were bad.
How he used to do well in the yellow pages but sales were fading fast and he didn't know anything about the internet.
Asking for a pen from the bartender, I quickly filled out both sides of a napkin with strategies he could use on the internet to stand out from the rest of the paint companies. It just seemed to flow because this is what I'd been doing for the past 6 years… but just for myself.
For the first time in months, I could feel the blood flowing again through my veins.
As he gets up, he pats me on the shoulder and says the words that would change the direction of my life and the reason you're even seeing this website…
"You know, it's a shame you don't show business owners how to do this internet stuff. We need it badly."
And that's how my local marketing agency was birthed.
I began helping businesses with their internet marketing and became a local marketing agency even before being a local marketing agency was cool.
Today you have every Tom, Dick and Harry sending you their emails about their local agency… and most don't know what a damn meta-tag or a backlink is.
They get the sale and pawn your business off to someone in India… take their cut and move onto the next business. Turn and burn.
Well, a few months later- I'm doing little over $10,000 a month... recurring.
But this time, it couldn't be taken away overnight. And this time- it's recurring income. I didn't stress about the next month.
Matter of fact, I don't do anything nowadays unless it is recurring... but that's another story for another time.
The Rest of the Story
In late 2015- I finally got back invited into the 'House of Google.' Winter was over.
Matter of fact, since then I've become a "Certified Partner'. Which means, we usually talk every other week AND they let me test out cool stuff that I can't even talk about until it's released to the public.
Talk about a change of events.
I now manage over million dollars in local businesses' PPC ads. I have over 100 clients from LA to NYC who rely on me for their internet marketing.
That's my story. What's Yours?
What dreams have you given up on? What I want you to hear is -
Never Give Up!
When you get knocked down 8 times in life the only thing that matters is you get up 9 times. GET UP! You can do this.
I'm enjoying life again…
Do I still have the scars?
You damn right and always will. But the failures, humble me… Make me appreciate every day that I get to live this life.
My commute is 15 feet every morning… and that's if I walk around the bed. Getting little old to jump the rail.
I've watched my three kids grow into young adults I'm proud of. My daughter is going to UGA this year, my youngest son is headed to mission trip next month and my oldest is working with me. I'm here for them... whenever they need me.
It's funny how the gold doesn't shine as bright as it once did.
How I've discovered there are more things in life more important than the next dollar.
I've learned a few things along the way. I've discovered how to make sure I never wake up and I've lost it all again.
To the point that IF everything was taken away from me again. (which I've tried to make sure that doesn't happen)
but IF…
I'd get it back within 90 days. No doubt whatsoever.
Once you discover these secrets,




no one can stop you. But you!


​
So now as I turn 50 years old, I'm looking ahead and thinking…
What am I leaving behind?
What is my legacy?
What will I be known for?
And that is my focus now.
We have a very comfortable six figure agency… and we do quite well in the information marketing realm too.
Even have a couple of ecommerce stores doing a few thousand a month.
But more important than all that to me.
I Have My freedom.
I get in my convertible Mustang any day of the week and drive down to see my daughter 3 hours away and stay the night and my business won't miss a beat. THAT is what is important to me now.
Just went on a 4 day cruise with her with a week's notice. My business didn't miss a beat.

So where do I want to go from here?
Through deep soul searching, I've decided it's my time to give back.
I want to give you what I know.
Pour out my heart and just maybe change a life or two for the better before powering down this Mac once and for all.
This site is dedicated to the one wanting the internet life. A life of Freedom. There is none better - once you've figured out the keys.
I'm sure you're skeptical as hell... and should be. But let me make a promise. Give me a few days. Put yourself in on my list, and you'll never be the same.
Once you learn what I have to show you... it would be impossible for you to be 'ordinary' again.
Trey